Windows 7 Search Alternative Roundup
X1 is by far my top pick but it has some drawbacks:
14 Day Free Trial
It can eat up a lot of cpu (at least on server 2008 r2)
However, it is lightening fast.  This will increase your productivity because you won't waste time looking for that email from last year (Outlook and Lotus Notes integration) or for specific files on your hard drive.
X1 searches all your resources as fast as you type—even if you have hundreds of thousands of emails, attachments, and files.
Detailed search specifications—including Boolean, proximity, and keyword—help X1 return accurate results in record speed.
X1's unified interface delivers all your search results in their native formats, so you can fully preview over 500 file types even if you don't have the application that created a file.
Deep integration with popular mail clients like Outlook and Lotus Notes means you'll never misplace an email or attachment again.
Integrated post-search functionality lets you act on results immediately. Open, delete, print, email, drag and drop files, export to other applications, add to ZIP files, and more.
"Everything" is an administrative tool that locates files and folders by filename instantly for Windows.
Unlike Windows search "Everything" initially displays every file and folder on your computer (hence the name "Everything").
You type in a search filter to limit what files and folders are displayed.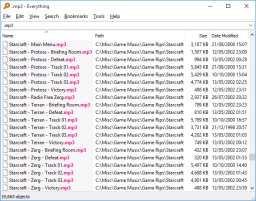 It claims to index you drive very quickly (20,000 files a second).  It looks pretty promising.
Small installation file
Clean and simple user interface
Quick file indexing
Quick searching
Minimal resource usage
Share files with others easily
Real-time updating
FileSearchEx offers the simplified search interface like Windows XP yet in an updated and modern fashion. Unlike many other search tools, FileSearchEX works well with millions of items in the result pane.
* Low system requirements.
* Extremely simple search interface.
* Portable application for easy network deployments.
* Locked down user account compatible.
* Users don't need to learn a new file search utility. XP style search.
A special feature of FileSearchEX is that it runs well in locked down computer configurations while still being easy to install by network administrators. Indeed, no installer is needed and admin rights are not required. No matter what software you have on your business systems, users will find it refreshing to have FileSearchEX's simplified search interface available to them. Searching inside file contents, network shares and UNC paths round out the standard features.

This tool will index all files on your hard drive to provide quick search results.  This will eat up your processor while indexing put the payoff is pretty big once the index is created.
Right off the bat this tool has an awesome name.  It has been around for ten years and comes in x86 and x64 flavors.  It does not index files but has shell integration.
Search results, showing the contents view docked below the file list view:
Print preview allows you to check your results before printing:
Regular expression wizard helps you build regular expressions for complex pattern matching searches:
Search by modified, created, or last accessed date:
Export your results to a file for importing into other apps or for sharing with others:
Various options to control searching:
This tool has a lot of great features, however, it does not keep any sort of file index so searches aren't that fast.
FreeCommander is an easy-to-use alternative to the standard windows file manager. The program helps you with daily work in Windows. Here you can find all the necessary functions to manage your data stock. You can take FreeCommander anywhere – just copy the installation directory on a CD or USB-Stick – and you can even work with this program on a foreign computer.
Main features in FreeCommander:
Dual-panel technology - horizontal and vertical

Tabbed interface

Optional tree view for each panel

Built in file viewer to view files in hex, binary, text or image format

File viewer inside archives too

Built in archive handling: ZIP (read, write), CAB (read, write), RAR (read)

Nested archive handling

Built in FTP client

Easy access to system folders, control panel, desktop and start menu

Copy, move, delete, rename files and folders

Multi rename tool

Wipe files

Create and verify MD5 checksums

File splitting

File properties and context menu

Calculation of folder size

Folder comparison / synchronization

Modification of file date and attributes

Folder / program favorites

File searching (inside archive too)

File filters for display

User defined columns for detailed view

DOS command line

Multiple language  support